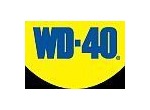 WD40
WD-40 Company is a global marketing organization headquartered in San Diego California, where the original WD-40« Multi-Use Product was invented during the 1950s.

Above and beyond that legendary, signature blue and yellow can, instantly recognized worldwide, WD-40 Company encompasses a group of brands featuring a full range of high performance products. Spanning maintenance, specialty, and cleaning products for all corners of the industrial realm, enthusiasts, hobbyists and home, WD-40 Company is home to several of the World's best-known brands.
Select by Category


Cleaning Solutions, Aids & Protectors.
"Protectors" are after wash sprays.

Shop with confidence.
Mailing List
Joining our mailing list will get you ahead of the game on the latest offers and updates to this site. If you wish to subscribe, just put your email address into the box above and click "SUBSCRIBE". Please ensure that your SPAM blocker does not block our messages by mistake!