It is no longer a legal requirement, to wear face masks in shops. However, it would be appreciated, if those with "Flu like" symptoms postpone their visits. Despite the relaxing of restrictions, only one customer (Or party), at a time, is allowed to enter the shop. Please wait by the gate, if there is someone in the shop when you arrive (Or join queue if already formed).



Wheels - Road 700c Clincher Handbuilt Rear.
Handbuilt by us. We have much experience of wheel building and our wheels are built with great care. Spoke tensions are balanced and all cup and cone hubs adjusted, after building, to allow for the tightening effects of the quick release.

Other combinations can be built to order. See sections on wheel building (Including packs of spokes), hubs and rims to obtain a price.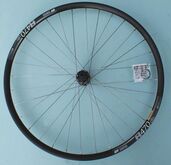 Shop with confidence.